Safe Paddling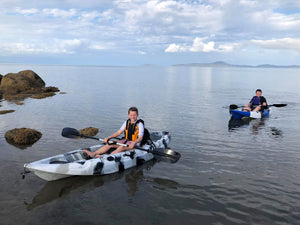 Safe Paddling Guide
Like any outdoor activity kayaking comes with its own potential risks and dangers. Luckily with some basic knowledge and information these risks can easily be avoided. 
Steps:
Weather and Water conditions
Check the days forecast from BOM or other reparable weather sites. Check tides if applicable or river water levels for river kayaking. Always keep an open mind to changing weather conditions as forecasts cast change.
Flotation devices
Make sure you have appropriate PFD vests that abide state regulations, although some jackets are legal it doesn't always mean they are the most suitable for kayaking. 
Time Management
Make a time schedule based on conditions and allow for any unforeseen events, if you are not familiar with the area allow extra time for any unforeseen occurrences.  
Nourishment and hydration
Keep sufficient food and water requirements for the duration of your trip.
Inform others of your trip
It's important to share your days plans with a family member or friend. Make sure they are aware of where you are paddling, your estimation on trip duration. If things change keep in contact with somebody especially when paddling alone. Fully charge your phone before your trip, flight mode can save battery life.
Kayaking Apparel
When choosing the appropriate kayak wear keep in mind appropriate sun protection, Thermal wear , feet and hand protection.  Also don't forget your sunscreen.
There is always a good chance you may capsize so always keep a towel and spare some dry clothing in a dry bag.
---